---
This article was originally purchased in the second issue of the Mallard Magazine. You can buy a copy here.
Photo owned by the Mallard.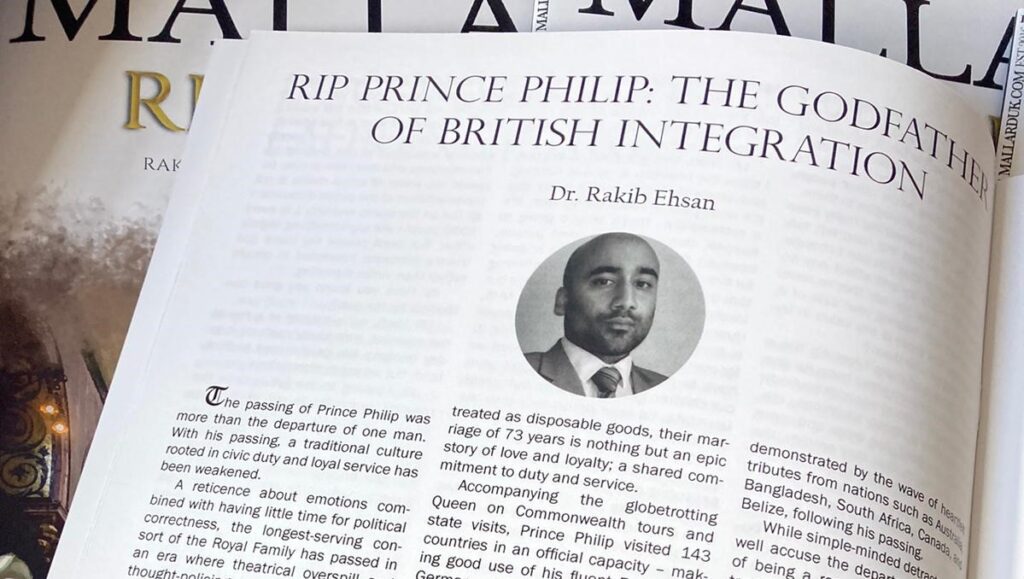 ---
The passing of Prince Philip was more than the departure of one man. With his passing, a traditional culture rooted in civic duty and loyal service has been weakened.
A reticence about emotions combined with having little time for political correctness, the longest-serving consort of the Royal Family has passed in an era where theatrical overspill and thought-policing tendencies are hallmarks of cultural modernity.
Born in Mon Repos on the island of Corfu, Prince Philip was born into the Greek and Danish royal families. To say that he had a chaotic and disruptive childhood would be quite the understatement, with his mother – Princess Alice of Battenberg – being diagnosed with schizophrenia and placed in an asylum.
Educated in France, Germany, and Britain, he joined the Royal Navy in 1939. During the Second World War, Prince Philip served with distinction in the Mediterranean and British Pacific fleets. He was involved in campaigns such as the Allied invasion of Sicily, Operation Lentil, and the Battle of Okinawa. He was in active service until 1952 – the year his wife Queen Elizabeth II ascended to the throne following the death of George VI.
Speaking of her husband, Her Majesty once said Prince Philip was her "strength and stay". In a market-based society where people are all too often treated as disposable goods, their marriage of 73 years is nothing but an epic story of love and loyalty; a shared commitment to duty and service.
Accompanying the globetrotting Queen on Commonwealth tours and state visits, Prince Philip visited 143 countries in an official capacity – making good use of his fluent French and German. As Britain's longest-serving consort, he took on a total of 22,191 solo engagements. When he finally retired from royal duties back in 2017, he was said to be a patron, president or a member of more than 780 organisations.
One of Prince Philip's finest legacies will be the Duke of Edinburgh's Award, which he founded in 1956. The youth awards programme, incorporating activities ranging from community volunteering to physical fitness, has transformed the lives of many young people – both in the UK and abroad. Programmes modelled on the Duke of Edinburgh Award can be found in nations such as Lesotho, Malaysia, and New Zealand.
The Corfu-born Prince Philip, a mixed-ethnic refugee who at one point was rendered stateless, evolved into a highly-respected figure throughout Britain. His sharp wit, unparalleled stoicism, and decades-long unshakeable commitment to both family and country, meant he was admired by many. The impact he made while on this Earth was not just felt in Britain, but also through much of the Commonwealth. Indeed, this was demonstrated by the wave of heartfelt tributes from nations such as Australia, Bangladesh, South Africa, Canada, and Belize, following his passing.
While simple-minded detractors may well accuse the departed Prince Philip of being a reactionary throwback, the truth is that not only was he a modernising influence on the Royal Family – he was the godfather of British integration.
RIP Prince Philip.