---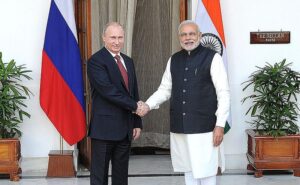 While the United Nations General Assembly (UNGA) overwhelmingly voted in favour of a resolution condemning the Russian invasion of Ukraine and demanding the removal of its troops, there were four countries – alongside Russia – who opposed it: Belarus, Syria, North Korea and Eritrea.
For those wondering why Eritrea is on that list, there has been a recent deepening of Moscow-Asmara relations – with the Kremlin investing in the building of a logistics center at a port in the East African country as it looks to grow its influence on the world's youngest and fastest-growing continent.
Being of Bangladeshi and Indian origin, there were two notable abstentions from a personal point of view: Bangladesh and India. This came as no surprise to me. Close Moscow-Delhi relations date back to the Cold War era and it has been strong ever since. During the Cold War, India and the Soviet Union shared a strong diplomatic, military, strategic and economic relationship. This included both supporting Bangladesh's 1971 liberation struggle. Following the dissolution of the USSR, Russia – as the successor state to the Soviet Union – inherited this 'special' and 'privileged' strategic partnership.
While post-Brexit Britain looks to strengthen diplomatic and political cohesion among the Commonwealth of Nations, a string of member-states abstained on the UN's Ukraine resolution – India, Bangladesh, Pakistan, Sri Lanka, South Africa and Namibia. The first real test of post-Brexit 'Commonwealth solidarity' on the international stage has ended in failure – with 'special' partnerships and warm sentiments towards Russia dating back to the Cold War maintaining their significance.
There is much food for thought for Britain. It has played a leading role in providing Ukraine with comprehensive military and medical supplies, as well as pushing for Russia's marginalisation in the global political economy. However, key Commonwealth partners did not nestle with the UK's UN vote over Russia-Ukraine.
Post-Brexit Britain would be wise to better understand the specific regional interests and historic loyalties among Commonwealth nations.
---